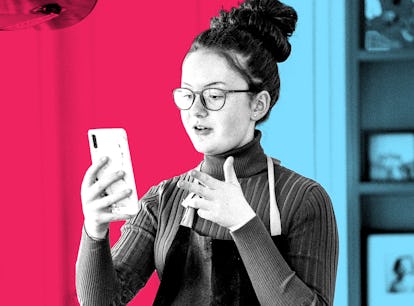 These Are The 73 Trendiest TikTok Recipes Of All Time
You'll want to taste them with your buds.
It seems like there's a new viral food trend taking over TikTok every week. When you open the app, there's always a fresh recipe hot off the kitchen stove waiting to greet you on your "For You" page — and you haven't even had the chance to test out the last one you saw yet. If you're finding it difficult to keep track of all these creative dishes, this running list of the trendiest TikTok recipes of all time can help you and your tastebuds out.
Whether you're looking to put together an Insta-worthy table for when it's your turn to host dinner or you're just getting a little tired of your typical weeknight meals, this list of viral TikTok recipes has all the inspo you need to impress any foodie (including yourself). These viral recipes will spice up your usual breakfast or dinner situation while making your plate look and taste Michelin star-approved.
Mind you, checking out these trendy TikTok recipes may result in hunger. It may even cause some nostalgia. Remember dalgona coffee? It feels like such a #throwback now, but when you browse this master list of the best TikTok recipes, you may just find yourself whipping up some treats that take you on a tasty trip down memory lane.
Before you get cooking, don't forget to bookmark this list of TikTok recipes we curated below, as it will continue to be updated with the latest viral dishes on TikTok. That way, you can stay up to date on what everyone's serving up and never taste FOMO again.
This article was originally published on