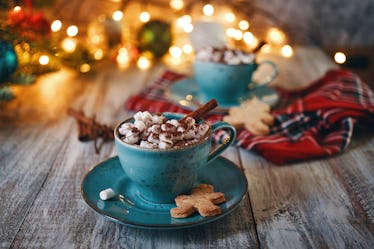 These TikTok Hot Chocolate Bomb Recipes Are Just So Sweet
GMVozd/E+/Getty Images
By now, you've likely scrolled through a bunch of hot chocolate bomb TikToks on your For You page and drooled every time. Hot cocoa bombs are the hottest trend of the season and are selling out fast. However, there are some hot chocolate bomb recipes on TikTok that you can try to make right at home so you don't miss out on this tasty fad. After all, what's the winter season without a warm bevy, and what's Christmas without hot chocolate?
Not only is this trend downright delicious, but it's also super fun to watch. Even though you know what's going to happen, it's still a treat to see your hot chocolate bomb melt before your very eyes. It's the peak of Insta-worthy food content, and now, you can give yourself something to 'gram about with the right recipe. A traditional hot chocolate bomb is easier to make than you'd think. You just need some hot cocoa mix ($16, Godiva), chocolate melts ($5, Target), and a silicone mold ($12, Amazon).
Once you've nailed down a traditional hot chocolate bomb, that's when you can get creative with different flavors and toppings. These nine hot cocoa bomb TikTok recipes may even inspire you to come up with your own version, which you can share via a tutorial online and keep the deliciousness TikTok-ing around the clock.