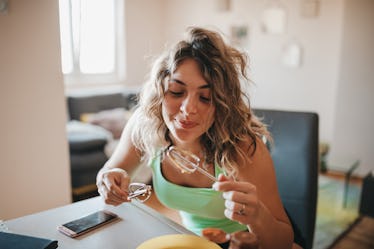 TikTok's Churro Cheesecake Recipes Include Oreos And Strawberries
These recipes are churr' all you need.
bojanstory/E+/Getty Images
When you love both churros and cheesecake, the only logical next step is to combine the two for the ultimate treat. Unsurprisingly, home chefs have already figured this out, and chances are you've been seeing TikTok's churro cheesecake recipes popping up on your "For You" page recently. While traditional churro cheesecake is nothing new on TikTok, this tasty recipe is going viral once again as people put their own twist on churro cheesecake bars and bites.
The best thing about experimenting with churro cheesecake is the seemingly endless flavor possibilities. Just like how Disneyland is always coming out with new churro flavors, you can also easily add strawberry, Oreos, or other ingredients into the mix for a completely unique and delicious creation.
If you're new to the whole churro cheesecake life, start simple with just a regular churro cheesecake recipe. Once you've mastered that, though, you'll want to not only make the rest of these nine churro cheesecake recipes on TikTok, but you may also be inspired to spice things up in the kitchen with your own creations. Come up with your own twist on a churro cheesecake recipe, share it on TikTok, and watch all the likes come flooding in.