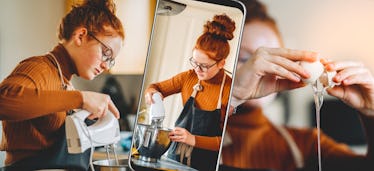 Make These Easy Banana Breads From TikTok With The Person You Loaf Most
Getty Images
You know that when your bananas start to brown that just means it's time to make some banana bread, and these easy banana bread recipes on TikTok will help you do just that. Not only is banana bread tasty AF, but it can be super fun to make with your partner in the kitchen. The real question you have to ask yourself is what banana bread should you test out.
Of course, there's the OG loaf that you can't go wrong with. However, when you start adding in additional ingredients like chocolate chips, walnuts, and cinnamon, you open yourself up to a whole new world of banana bread possibilities. Start by looking through your cabinets to see what ingredients you're working with. That could help narrow down what bread to make. Then, check out any of these nine easy-to-follow banana bread recipes on TikTok. They're delicious, and since this is on TikTok, you know that these recipes videos are quick. That means you'll learn how to make some bread in no time.
The fun really comes from working with your partner in the kitchen to make everything come together. You can even document your baking attempts for a TikTok vid of your own. The most a-peel-ing part of all is that at the end of the day, you'll have tasty banana bread to enjoy with the person you loaf the most.