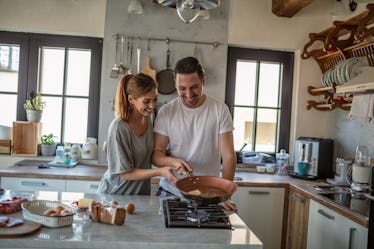 This TikTok Egg Sandwich Hack Will Completely Change Your Breakfast Game
MilosStankovic/E+/Getty Images
The perfect egg sandwich is a lot easier to make than you'd think. Breakfast can be a struggle trying to get your eggs just right, but this TikTok egg sandwich hack will make the process a total breeze. It's all thanks to one kitchen utensil you've likely been overlooking: your slotted spoon. By using your slotted spoon, you can easily separate your egg whites from the yolks to create the perfect over-easy egg blanket to wrap up the rest of your ingredients in. It's so simple, you might be wondering why you didn't think of it in the first place.
Now is your time to try this TikTok egg sandwich hack for yourself. Simply pull together your bacon, cheese, and whatever other ingredients you'd like to add to your sandwich. Go all out with avocado, tomato, or peppers so you can create the most Insta-worthy TikTok sandwich ever.
Coming up with something unique to you may be difficult, so if you're looking for some inspo on what ingredients to put inside, these five egg sandwich TikToks may help. Consider preparing a different egg hack sandwich each day of the week. After all, every day could be "egg day" if you want it to be.