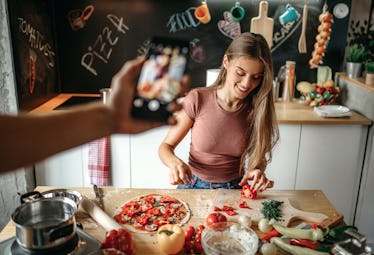 These Pizza Wrap TikToks Will Instantly Make Your Mouth Water
CreativeDJ/E+/Getty Images
Why have a standard slice of pizza when you can turn it into something so much more? TikTokers are putting their own spin on this classic cheesy treat, and you'll be totally hooked. You may remember the tortilla trend that recently took over your "For You" page. Now, there are pizza wrap TikToks that will have you looking forward to your next meal.
What you'll need to make your very own pizza wrap is a tortilla, pizza sauce, cheese, and your choice of toppings. It's as simple as that. You'll want to follow the same steps as the #TortillaTrend, and slice a quarter of your tortilla. That way, you can fold your pizza wrap into triangle-shaped sections on top of one another. Before you fold, though, add a topping to each section of your wrap. Then, once your wrap's all folded over, you can use a panini press or pan to melt everything together.
This savory treat is the perfect lunch, dinner, or snack to enjoy on National Pizza Day (Feb. 9) and beyond. You could even make cute mini pizza wraps to serve on the side of your movie night charcuterie board. The pizza-bilities are endless, and these pizza wrap TikToks will help inspire you to create your very own.