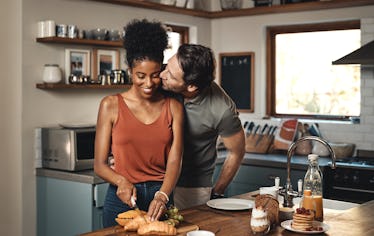 10 Clever Food Hacks On TikTok That'll Give You Serious Chef Skills
PeopleImages/E+/Getty Images
TikTok has never tasted so darn good. From trending hot chocolate bombs, to whipped coffee, to charcuterie boards, the app offers morsel after morsel of tasty treats to try. Oh, and there's more. On top of trendy recipes to prepare, TikTok is also cluing people in on master chef secrets to save time in the kitchen while maximizing taste. These clever food hacks on TikTok will make cooking as easy as pie.
From watching TikTokers save time during dinner prep to elevating a simple cheese quesadilla into four-tiered layers, your jaw will seriously drop. Your stomach will also thank you for learning these TikTok food hacks that'll have you whipping up mouthwatering meals in half the time it usually takes you to prepare. When you post your masterful creations on the 'gram, your followers will be impressed with everything, including how farm-fresh your produce looks, thanks to TikTok's food storing tips.
When it comes to cooking, certain skills can be difficult. But, these food hacks on TikTok will make tackling recipes and kitchen goodness less daunting in no time. Not only will you love everything you're serving in the kitchen, but all of your followers will love the content you're serving on your feed, too.