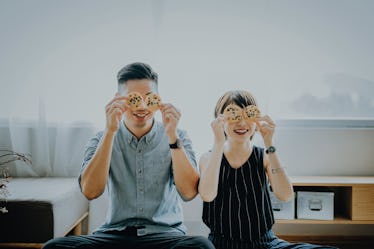 These 10 Easy TikTok Cookie Recipes Will Bake Your Day So Much Tastier
AsiaVision/E+/Getty Images
Your most ideal situation is to be snuggled up on the couch with a plate of freshly-baked cookies. In one hand, you'd be holding your phone and scrolling through the latest TikTok videos from Charli D'Amelio. In your other hand, you'd be dipping a sweet treat into a glass of milk. These easy TikTok cookie recipes will definitely get you there, and ultimately bake your day a lot better.
Within 30 seconds or so, they'll teach you everything you need to know in order to whip up your favorite baked good from scratch. They'll coach you on how much butter, brown sugar, or flour to add, and what setting to put your oven on. So, whether you're a novice in the kitchen or a total pro, you'll be able to nail a new recipe with ease. You'll be able to walk in your older brother's room, or the home office where your SO is working away, and surprise them with a decadent dessert.
Not to mention, when you're feeling particularly bored, these simple and tasty cookie recipes will give you something to do and snack on. Start by watching these 10 videos, picking the cookie you want to make, and then pulling out the necessary ingredients.