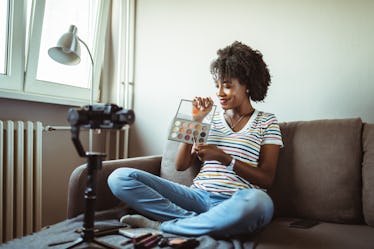 12 Creative Pics To Take At Home When You Really Need Some New #Content
MStudioImages/E+/Getty Images
Believe it or not, you don't need to travel to get stunning content for the 'Gram. Sure, a dreamy hotel might have a rooftop pool you can snap pics in, or a sparkling restaurant that's begging for you to take selfies. But, in your own space, you may have backdrops that are "worthy," too. You just have to find some creative pictures to take at home that really make the most of your lighting situation, homemade meals, and colorful walls.
To find these creative pictures, start by heading to your fave influencers' feeds. It might seem like they're constantly posing outside of airports or amongst the tropical trees in Bali, Mexico, or the Maldives. If you take a closer look, though, you'll notice they've posted photos from their cozy home, too. Some might be of the açaí bowl they made for breakfast or a pet of theirs who was hanging out in their bedroom. Others may capture their outfit details, or a lazy afternoon when they were trying a new face mask.
Let those photos serve as your inspiration. Pull out your own face masks and circle mirrors to create pictures that show your lifestyle at its best. Break out the packs of glitter and presets you love to really spice things up a bit. Here are 12 photo shoot ideas to get you started — and on your way to fresh #content.