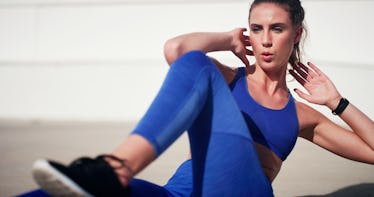 10 Workout Apps To Download When You Want To Get Active At Home
Are you contemplating working out at home, but aren't sure what yoga moves to do on your mat or how to use your free weights? Don't worry. There are tons of apps that'll let you build a program revolving around your goals or coach you through intense stretches, ab exercises, and cool down sessions. The best workout apps 2020 to download have made it their mission to make sure you're getting active in places other than the gym.
They've made it possible to throw on your running shoes and take a jog around your neighborhood, or to sweat without using any expensive or fancy equipment at the gym. So, when you're hanging out on the couch and thinking, "I want to work out, but I don't want to go outside," and "I don't feel like lifting today," you have other options. Instead of making a bunch of excuses, you can switch up your routine and try doing yoga in your living room or using your bodyweight to tone your muscle groups.
These 10 workout apps make it so possible to get into a groove in the comfort of your home. Download them ASAP and then get ready to reach your #fitnessgoals.