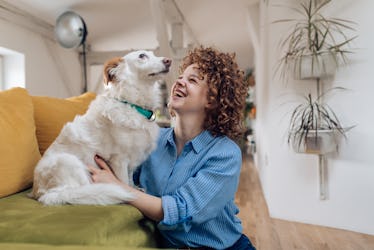 12 Things To Do At Home That Aren't On Your Phone & Are So Rewarding
RgStudio/E+/Getty Images
Sometimes, you need a break from your phone. You might find it refreshing to put your device in the other room and find things to do at home that aren't on your phone. In the past, you might have baked something sweet or used this time to talk with your roomie about their latest crush. Now, you're on the hunt for some fresh ideas to add to your "afternoon-at-home" bucket list.
Don't fret or start worrying that you're going to be bored without your phone. There's plenty to do in your space that doesn't require scrolling, tapping, sharing, or giving your thumb a workout. Some activities might be better with a buddy, which is where your roommate, adorable puppy, or significant other comes in. Others can give you a much-needed dose of peace and quiet — serenity you might not have had time for, since your schedule is usually very fast-paced.
No matter what the activity is, though, it doesn't require your phone. So put it in another room on the charger, or activate Do Not Disturb mode. Tell your friends, followers, and close family members you're signing off for the day, and then check these 12 items off your at-home bucket list.