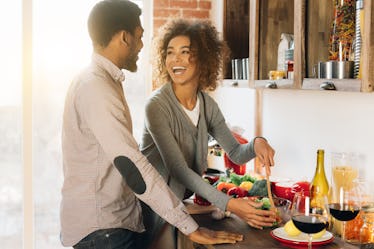 12 Things To Do With Your SO At Home That Are Even Better Than Going Out
Shutterstock
Sometimes, you'd much rather do something at home with your bae instead of going out. You already have the essentials you need, because all it takes for a great night is you and your partner being together. It doesn't have to be your typical TV-show-marathon-on-the-couch situation either, because there are many other fun things to do at home with your partner.
Some of these you may be sleeping on and just need to be reminded that the date night possibilities are endless. For instance, you and your partner may have a favorite restaurant you always go to, but why not try and recreate your go-to dishes at home? Instead of grabbing drinks at a bar, you can put together your own wine and paint night (if you're 21 or up).
There are a ton of options out there, but if you need help planning for Friday night, this list of 12 things to do at home is a great place to start. The best part of each one of these ideas is that you don't even have to dress up for them. Ditch the heels for a cozy pair of slippers, and you're set for the perfect evening in with your favorite person.