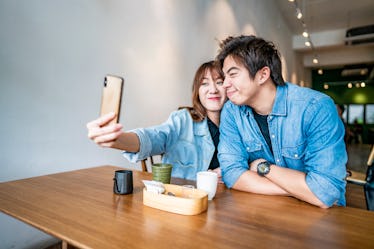 12 Birthday Ideas For Your Aries Partner That Are As Stellar As Them
Khaichuin Sim/Moment/Getty Images
Just in case your partner hasn't reminded you already, it's almost Aries #szn. On March 21, the zodiac calendar will officially shift, giving your significant other a reason to start a countdown for their special day. It's up to you to track down birthday ideas for your Aries partner that'll make them feel so special, celebrated, and loved.
You might already have a few ideas that are specific to your person and what makes them smile on the reg. If that's the case, then go with your original plan because it'll surely be a home run. When your person walks into their favorite pizza restaurant where you've gathered up all of their closest friends and family for a party, or into your kitchen where you've prepped an elaborate breakfast, they'll have major heart eyes and be so surprised. They'll rush over to you and likely give you a big kiss and say, "I'm the luckiest person on the planet."
If you don't have a plan for your partner's birthday yet, then don't fret. There's still plenty of time to put together a day of fun that'll speak to your Aries partner's soul and cue that reaction. These 12 ideas will get you started and make sure the day is as stellar as them.