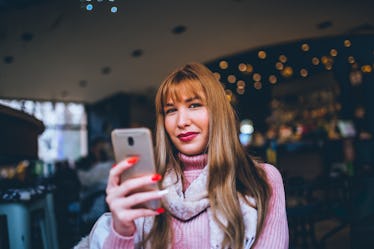 The Best Preset Packs For Winter Will Level Up Your Instagram Feed
LordHenriVoton/E+/Getty Images
I've seen travelers, creatives, and photographers on social media say one should romanticize every part of life. The way your coffee looks in the morning when you've first poured milk in it, and the long train rides to work that serve as your "me" time? Included. You should put that rose-colored filter on everyday life, which if you think about it, is what editing and the Instagram preset packs for winter 2020 tend to do best.
They make ordinary moments, blurry mirror selfies, and the pics in your camera roll look like a masterpiece. The well-thought-out way they pick up on the blues in the sky or a pile of snow and turn them into a dreamy shade of purple is straight-up magical. Their effect is so great, you can't help but open up the Lightroom app on your phone every time you want to post something to your Instagram stories or feed.
Purchase and download them, and showing your BFFs before and after versions of your pics will likely become your norm. You'll find your social media has leveled up and romanticized the adventurous, simple, and blissful moments in life that are all worth gushing over. Here are the five preset packs that should really be on your radar and phone RN.