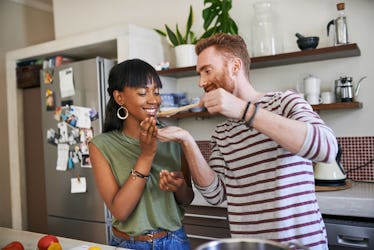 Cook These 14 Things On IG Live With Your Partner & Take Whisks Together
mapodile/E+/Getty Images
Going "live" on Instagram with your partner is quickly becoming your jam. It doesn't matter if you're answering questions sent in by your followers or playing fun games. You love everything about this feature and getting to stream your adventures in real time. Your next adventure? Looking up a few things to cook on Instagram Live with your partner, and then taking whisks in your adorable kitchen.
Pardon the puns, but you've always been the one in your relationship to mix it up. Planning spontaneous dates, getting your love surprises at the grocery store, and making your lives feel like a romantic comedy is your specialty. This weekend, or whenever you have a spare afternoon, you'll adore pulling out your pot and pans, and conquering a recipe with your SO. Everything is simply butter with them by your side, and you'll likely land a chef's kiss by the time the oven's timer goes off.
Of course, your followers will happily tune into your Instagram Live, too, because it'll feel like the clips they already watch on social media or Food Network. They'll cake it easy on the other side of the screen while you're putting together smoothie bowls or prepping sweet potato fries. Do you need a recipe or two to get started? Look no further than these 14 you'll love pho real, and that'll encourage you and your partner to take whisks in the kitchen.