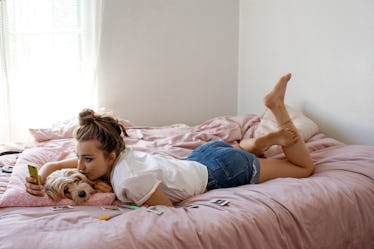 10 FaceTime Date Night Ideas That'll Give You And Your SO Heart Eyes
Stephanie Rausser/DigitalVision/Getty Images
When you're in a relationship, any kind of distance can be tough. You'd rather be next to the person you love, laughing and cuddling with them on the couch. It becomes #necessary to plan nights when you can talk on the phone and put these FaceTime date night ideas to good use. Have you tried planning a FaceTime date yet? If not, you and your SO are in for a real treat.
These date nights will make you forget about the miles between you and focus on making new mems. They'll bring you two together and give you a chance to do all of your favorite things. Maybe you love watching a TV show with your bae, or having photo shoots with them in your free time. All of that is still possible, including those romantic dinners and kitchen dance parties, thanks to the technology and apps built into your phone.
To get started, simply find a time when you and your SO are both free to have a FaceTime date. Make sure it's at a time when your roomies won't interrupt you, or when you don't have to watch the clock because of an incoming Zoom call. Once you have a time, prep everything you need to have a romantic, fun, cheesy, and perfect date night with bae. These 10 date ideas will be easy to recreate.