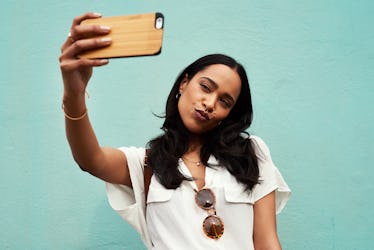 Channel Your Fave Stars With These 10 Celebrity IG Story Filters
PeopleImages/E+/Getty Images
If you have post notifications turned on for Kris Jenner, Billie Eilish, Ariana Grande, Justin Bieber, and other A-list celebs, then you need to open your Instagram app and slide over to stories. The celebrity Instagram story filters are basically made for you, and give you the chance to channel your favorite stars wherever you are.
Whether you're chilling at home or driving to the store with a BFF, these filters will let you try out Kylie Jenner's signature lip kit colors or totally transform the space around you to look like the "Yummy" music video. If you've dreamed about putting a glitter heart around one of your eyes, in true Taylor Swift Lover fashion, now you can and show your support for the lovey-dovey, rainbow-filled album. There are even effects for fans of Ellen Degeneres and her hilarious games, Selena Gomez and her Rare album, and the one and only, Beyoncé.
Like any other story filter, you simply have to tap on these effects in the library and then save them. Once they're saved, you can freely use them and channel celebs who walk red carpets, go to award shows, and take lavish vacations on the reg. Here are the 10 filters, in particular, that you should save and use RN.