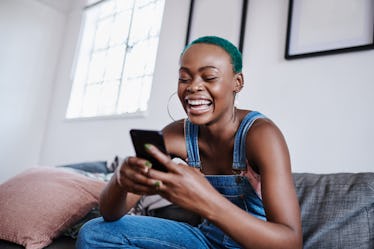 10 Funny IG Story Filters You Need To Send In The Group Chat ASAP
LaylaBird/E+/Getty Images
When you first saw one of your followers post a video on their Instagram story with a filter on it, you might've thought, "What's this?" Now, you're saving every nifty effect you can find and tracking down funny Instagram story filters to send in a group chat.
From the filters that interact with you, figuring out what character from The Office you are, or who your cartoon parents are, to the ones who put a dancing Shrek on your couch, you're trying them all. You're asking the app to determine what Pokémon you are, and which contestant you look like from The Bachelor, even if you didn't watch the season. In return, the app is scanning your face and giving you a reason to laugh or look totally shocked on camera.
The best part? As time goes on, even more of these straight-up hilarious story filters are being created. Instagram users and lovers keep bringing wild and quizzing concepts to life, and uploading them for you to use. In the past few weeks alone, you might have recorded a cat walking on a pink doughnut around your room or your face as the pit of an avocado. Here are 10 story filters like that, that you'll want to try and then send in a group chat.