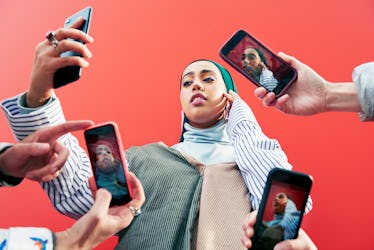 10 Stunning Instagram Story Filters You Can't Sleep On This Spring
If you're dialed into the digital world and all things related to Instagram, then you likely already have a couple of preset packs on your phone you use on the reg. They make every tap of the "share" button more exciting and elevated. But now it's time to put story filters on your radar and get the Instagram story filters for spring 2020 that'll upgrade your snaps to come.
Unlike presets, these filters are built right into your app and can be used by simply tapping "Save Effect" on your screen. They work very similarly to a typical filter, changing the colors, highlights, and shadows in a snap or video clip to be more balanced and obtain a certain # look. You might have already seen your best friends using them in their stories, or a note from some of your favorite influencers saying they've created their own that totally matches the style of their feed. In your head, you might have thought, "How do these work?" Now, you know the basics and are ready to embrace your creative side and join in on the fun.
It's about time that you start taking advantage of the multitude of story filters that are out there, and making your on-the-go pics look stunning. Here are 10 that should be on your radar for this upcoming spring. Don't sleep on them or the ~artsy~ possibilities.