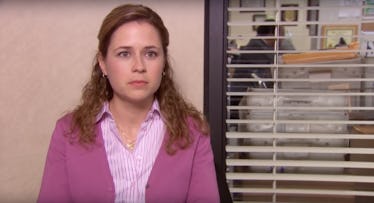 If You're The Pam Of Your Office, Then You Can Totally Relate To These 5 Things
Here's the deal: I believe that The Office is the greatest television show of all time. I truly love everything about it — from the awkward moments in Michael Scott's Threat Level Midnight movie, to Jim Halpert's casual glances at the camera crew, and all of the office romances in between. Every time Dwight Schrute talks about his beets, how to fight a bear, or the latest episode of Battlestar Galactica, I'm cheering from the other side of the screen. What I probably love most about this television show, though, is how relatable it is. I can see myself in every single character, especially Pam Beesly. The things you have in common with Pam from The Office will seriously make you say, "Same."
Now, for those of you who don't know, the sitcom tells the story of a bunch of people who work for a paper company called Dunder Mifflin in Scranton, Pennsylvania. They arrive at their typical nine to five job every morning, and talk to customers about types and quantities of paper. But that's really only a small and very ordinary part of what they experience together, which you see as each season and episode unfolds.
Beyond selling paper, they experience their branch potentially shutting down, beach games with their boss, and award ceremonies hosted at Chili's. And if you sit down and watch it, you'll realize that being the Pam of your office means you can relate to these five things.