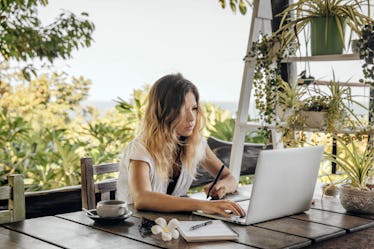 If You're A Millennial Who Works From Home, Start These 5 Traditions With Yourself ASAP
I think it's safe to say that millennials have started a lot of trends. From making avocado toast for breakfast, to taking pictures of aesthetically pleasing food at a restaurant and then posting it on social media, this generation is the definition of #trendy. But aside from succulents, salt lamps, and quaint coffee shops, possibly one of the biggest trends that they've fueled is working from home. This generation has truly embraced the concepts of being your own boss, taking on freelance jobs, and following an alternative career path. Can I ask you a quick question: Are you one of those millennials who work from home? I am, and recently I've started some traditions with myself that I think you would love.
As of right now, you may already have a few traditions or routines you stick to on the reg. You may use certain coffee mugs on certain days of the week, or wear sweatpants on what you've dubbed your very own, "casual Fridays." You may work out in the morning before signing into your virtual office for the day, or have self-scheduled breaks when you catch up on social media and your personal text messages. That deserves a huge round of applause (*cue the claps*), because it's not always easy or straightforward to work from home.
But in addition to those traditions, I'd like to give you five more I think you should start, well, ASAP. They're tried, true, and routines you'll love.