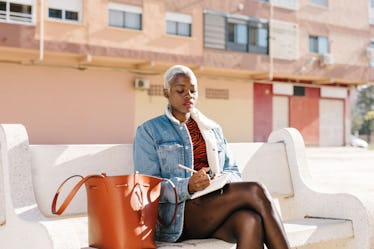 5 Promises College Grads Should Make Themselves On Day One Of The "Real World"
Growing up, you may have heard some of the adults in your life talk about the "real world." It normally came up in conversations about paying bills, dealing with traffic to and from work, and the other struggles that adults face on the reg. You may have thought to yourself, "Wow, that sounds terrible." (I know that I did.) Personally, I was instantly intimidated by adulthood. But since graduating college, I've learned that it's not actually a continuous thunderstorm. In fact, as long as you adhere to these promises to make yourself when you graduate, you'll be crushing it.
You see, unlike college or any part of your life thus far, this next chapter is completely up to you to create and decide. There's nobody telling you that you have to go to grad school, start your own business, or choose a new career path. There are no neon signs pointing you to an apartment on the West Coast, or reading, "Big adventure up ahead," either.
For some of us, that's a scary thought that leaves us with a lot of questions. But, you can and will get past those feelings and realize the possibilities. Because the reality is this: You just graduated college and became part of the "real world," and are about to embark on a journey that's so beautiful. Just make these five promises to yourself first, OK?