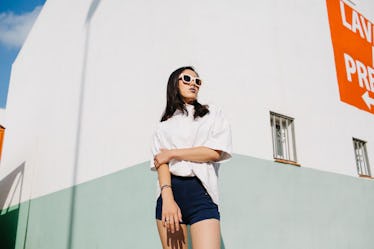 5 Easiest Ways To Adjust To Real-Life Adulting After Graduating College
The day I tossed my cap into the air, I remember looking at my best friend and saying, "Now what?" I had no idea where life was about to take me, other than to brunch with my parents and then to my college house to pack up my things. No one told me that the applications I'd sent out might not receive a reply, or that it's OK that I wanted to travel, explore options beyond my degree, and take everything one step at a time. That's why I'm here to tell you how to handle adulthood, the "real world," and everything that comes with life after graduating college. I'm here to make it easier than you may currently believe.
First things first: Cue the confetti! Graduating college is a huge milestone, and required a lot of work and effort on your end. You should be proud of yourself and treat yourself — to extra waffles at brunch, a plane ticket, or maybe a quality nap. Then, you should start daydreaming about what you want your life to be like from here going forward.
Truth is, what people don't tell you is that starting, well, now, your life is 100 percent yours to create. Your people are there to help you, support you, and answer all of your questions about adulting. But, it's ultimately up to you to decide the path you want to take. They also don't tell you that these five things make this time of transiton much easier. You got this — I pinky promise.