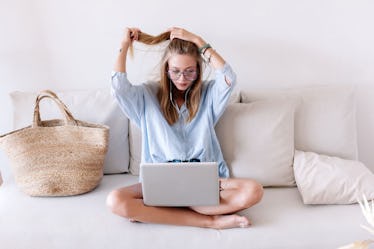 If You're A Millennial With Roomies, But Would Rather Live Solo, These 7 Things Will Speak To You
Let's talk about your living situation: Right now, you may have a cute, but small, apartment in the middle of the city or in your hometown. In your room, there are a bunch of succulents on the windowsills and neon signs that hang above your bed and say things like, "It was all a dream." You have a fridge full of your favorite snacks, like apples and peanut butter, and containers of a yummy meal that you prepped over the weekend. You also have roommates, who you love so much, but who bring some beautiful chaos into your life, too. Yes, you've gotten to know the struggles of having roommates when you want to live solo very well. Shall I go on?
Truth is, you were so excited to move out on your own, and still love having an apartment with your best friends. But, it's not quite what you imagined living with roommates would be like. It's likely not like an episode of Friends or New Girl, where laugh tracks play when you see a pile of dirty dishes, or somebody is eating pasta with their cat (Any Winston fans out there?) Nobody is playing the guitar during a blackout, either.
You are making a bunch of your own memories, though, and you're learning how to be patient, respectful, and kind. You're also facing these seven struggles that'll make you absolutely love living solo one day.