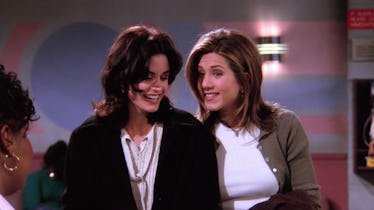 How To Know If Your Best Friend Is Really The Monica To Your Rachel
NBC/Netflix
You're pretty lucky, if I do say so myself, because you have a best friend who's always there for you. (*Cue the Friends theme song and the claps that go along with it.*) When you want to order two pizzas — aka, the "Joey special" — or hang on the couch in wedding dresses on a Friday night, she's the first person you call. When you need advice on taking a job across the world, or help navigating your health insurance policy, she's your "lobster" for those situations, too. But, how do you really know if your best friend is the Monica to your Rachel? Well, you'll know a few things to be true.
You're probably not new to the Friends scene or the entire gang. So, I won't bore you with episode recaps or "moo" points. I will, however, remind you of the greatest moments between Monica and Rachel. There was the time when they lost their apartment in a trivia game against Joey and Chandler, and the time they switched the apartments back when the guys were at a basketball game. There were fights over taking out the trash, and the happy tears over weddings, pregnancy announcements, and maid-of-honor fiascos.
Are you reaching for the tissues just thinking about all the mems? Me too. You're also feeling lucky, though, because some of those moments are all too familiar. Your best friend is the Monica to your Rachel because these five things are so true.