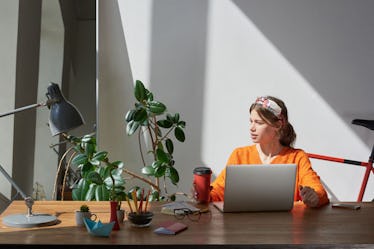 8 Promises You Need To Make To Yourself When You're Starting Your First Job
Welcome to the work force! There might not be a huge banner or bucket of confetti waiting for you at the door, but you're excited and feeling ready to take on the world. This is an epic moment in your life, and landing a position always deserves a pat on the back. *Extends arm through the screen.* Now, let's talk what you need to do beyond day one, because it can be easy to get lost in work responsibilities and put valuable things, like "me time" and your social life, on the back-burner. Take some necessary precautions, write down a few of these promises to make when you start your first job, and keep them close.
You almost can't believe that this day has come. Back in high school, you spent so much time daydreaming about your — well, dreams. Watching your aspirations to be a teacher (or just a straight-up #girlboss) unfold is incredible. You walk into your new office and try to soak in as much as possible on day one. Pace yourself, because there will be plenty of opportunities coming your way.
Seriously, take a deep breath, and then center your focus. When you're starting your first job and following your dreams, you want to keep these eight things in mind. Maybe post them on your mirror or read them before heading to the office every day. Pinky promise?