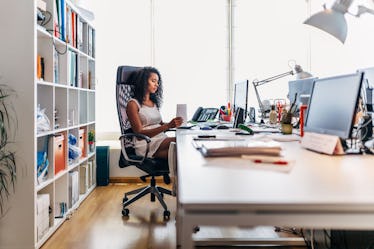 8 Things To Consider When You're Looking For Your First "Adult" Job
Get your inner #girlboss on, because you're ready to make your passion your paycheck. All of those long hours studying in the library are finally over, and you've put a bit more focus on that side hustle this summer, but you're still wondering what's next. Well, you graduated college, and now it's time to start looking for your first adult job. You've likely already updated your resumé, and are searching the web for some open positions. But, there are some things you should truly consider during the process.
By now, you've probably watched enough reruns of The Office or Parks and Recreation to know sort of what to expect out of the real world. You're excited to find a few new besties who share the same passions, and are planning to go to those company picnics in the summer. Even waking up in the morning and having a routine (which, of course, includes standing in line at your favorite coffee shop), is getting you stoked to start your career.
At the moment, though, you're just applying and seeing what is out there. You may know exactly what kind of position you want, or are still unsure of it all. That's OK, and part of looking for your first job is answering some of those questions and being open to any opportunity that comes your way. You're planning your interview outfits, and fonts on your cover letter. Just don't overlook these eight things that you should definitely consider, too.