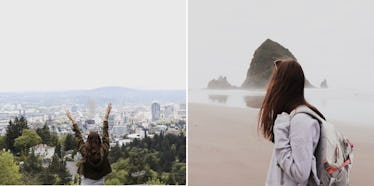 Why The Pacific Northwest Should Be At The Top Of Your Summer Bucket List
By now, your summer bucket list is probably pretty long. You may have planned a getaway with your girl crew, or mapped out a road trip across the country. You've always wanted to see cities like Chicago and San Francisco, but might not have considered one of the most beautiful corners of the country. There are so many things to do in the Pacific Northwest, and thousands of reasons why you have to go there this summer.
Recently, I spent a week in Portland, OR, and absolutely fell in love. I had been daydreaming about making it to the West Coast and seeing the teal waves for myself. Needless to say, this trip was long overdue and went beyond all of my expectations. We spent afternoons in aesthetically-pleasing coffee shops, and wandered just outside the city to the waterfalls.
Along the way, we met so many friendly people who had moved to the city years ago. Everyone said they couldn't picture living anywhere else in the world, and it was obvious why that was the case. Sure, there are those rainy days that give the Pacific Northwest such a bad rep. But, especially during the sunniest season of the year, there are so many things to do there that you won't want to miss.