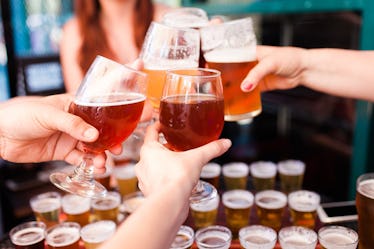 8 Best Breweries Around The World To Visit If You're Cold & Bored AF
Kayla Snell/Stocksy
Cheers! The cold weather might have you feeling chilly and bored AF. When we see snowflakes on the forecast, we cringe a little bit. This time of the year, it seems like summer will never come. You probably long for the days when you could bring a cooler and speakers to the beach and have a day with your besties. Cracking a cold one was oh-so-satisfying when you were soaking up the sun. But, bundling up in blanket scarves and boots doesn't have to be so bad. Thanks to some of our favorite brews, we can survive the snow and feel a different kind of draft. We all have our favorite flavors, and I'm no expert, but some of the best breweries in the world are worth a visit this winter.
You've heard of the mainstream places, but you might be looking for a new stout. You're a self-proclaimed connoisseur now. And it just wouldn't seem right to take a flight to the face without studying the flavors a bit first.
Like wine, there are beer capitals all over the world. Germany is often credited for the big beer festivals like Oktoberfest (looking at you, study abroad students). However, countries such as Belgium, the United States, and Ireland aren't far behind.
Finding a lager you really love can be hard, and the key is to stay open-minded. There are millions of beers to try, and you never know which one will raise the bar. Here are eight breweries worth adding to your bucket list — if nothing else, just to warm you up a bit this winter.