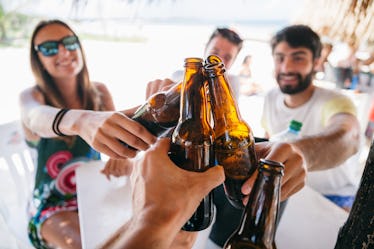 It's Time To Plan Your Beer Olympics & These Themes Are So Clever
February is bringing us the 2018 Winter Olympics, and you know that means? It's time to host your very own type of Olympics with your friends. What kind, you may ask? Beer Olympics. It's a fun party-type atmosphere with brews galore, plus you get to play some fun, yet highly competitive, games with your best friends. That's the absolute best of both worlds right there. But on top of thinking up fun games to entertain your party-goers with, you should definitely focus on Beer Olympic party ideas that will give you the "Best Hostess" title for years to come.
Obviously, this is for the 21 and up crowd and should be moderated to ensure a safe, fun time where no one drinks too much. But, it is definitely a fun party to have considering the PyeongChang Winter Olympics are just around the corner. Party planning for this event will be extensive — you have to make sure you have more than enough beer (because you can't run out of beer at The Beer Olympics) and you should have a few referees to monitor the games, as well as having a list of what you're going to be playing. Some game ideas include good 'ole Beer Pong (obviously), Kings, Flip Cup, a Shotgun Relay, and Dizzy Bat. Once you have the essentials all figured out, choose your theme and have fun!