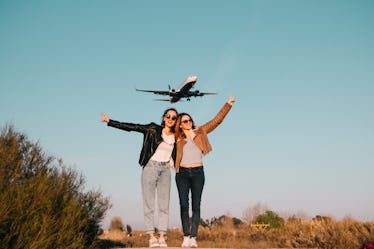 7 Cheap Weekend Trips In Europe Study Abroad Students Should Book ASAP
Susana Ramirez/Stocksy
It's the adventure of a lifetime. Oh boy, are we jealous you get to study abroad this semester. There's truly nothing like calling a European city home for five months, traveling the world, and experiencing cultures in ways you only could if you lived there. Your family and friends will joke about whether or not you're really "studying" while abroad. Truth is, a lot of your learning will come from the weekend trips you decide to book. The world is your oyster, but also your textbook -- and there's a lot to study up on. But, being abroad is a bit expensive. So, if you're looking to capture some culture without breaking the bank, there are some cheap weekend trips in Europe that are definitely worth taking when studying abroad.
Your wanderlust is really getting the best of you. You've probably already started packing, or at least made a solid list of things you shouldn't forget. Those guidebooks you bought are basically memorized by now, and your camera roll has been cleared to make room for the (inevitably) thousands of pictures you'll take in your new foreign home.
Maybe you had family that studied abroad, or are the first one to take the leap and travel around the world. Whatever your inspiration might have been, I promise it's just as good as they tell you it's going to be. When you get home it'll all feel something like a daydream, and you'll wish you could hop right back on a plane and have one more plate of that Italian pasta or Spanish paella.
So, I hope you make the most of your stay. There's so much to see in this world, and your semester abroad will give you the opportunity to make a solid dent in your bucket list. But, if you're balling on a budget, here are a few spots you should prioritize when planning those weekend trips abroad.