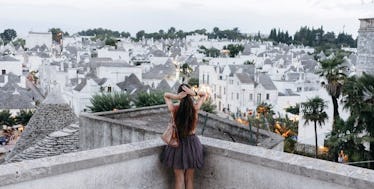 10 Absurdly Beautiful Pics That Will Convince You To Study Abroad In Italy
From the moment you step foot out of the cab and onto a cobblestone street in Italy, it certainly won't be difficult to fall in love with the breathtaking surroundings. And, let's be honest here: The delightful aroma of tomato, basil, and mozzarella pizza in the air doesn't help matters, either. Studying abroad in Italy may be the best decision of your life.
I may be a tad biased, but Florence, Italy, will always hold a special place in this chick's heart. I studied abroad there my fall semester of my junior year, and TBH, I'm still having hardcore withdrawals. From exploring the picturesque rolling hills and vineyards of Tuscany, to the major #FoodPorn goals every fresh pasta dish and gelato cone will bless your Instagram feed with, Florence is where it's at.
What's awesome about choosing Italy as your study abroad country is that it's a prime destination to book trips from. You can take train and bus trips to Venice (aka "The Floating City"), Cinque Terre (villages situated on the stunning Italian Riviera coastline), Positano (a village on the cliffs of the Amalfi Coast), and much more. Other countries are just cheap flights away for long weekend getaways. So, if you aren't already convinced to jet off to Italia with your college besties, these 10 pictures will certainly slay the persuading.
1. Show Me A Sunset More Breathtaking Than This One
Florence, Italy pic.twitter.com/H8W8RhjYCc — Earth's Scenery (@EarthsScenery) July 26, 2017
Just look at those views. Florence seriously takes home the gold. If I had the opportunity to experience that sunset every day for the rest of my life, this girl over here would die ecstatic.
2. When Life Gives You Lemon *Trees*...
We stayed in Florence, Italy at Hotel Rivoli and there were lovely lemon trees growing in the courtyard. #Travel #Italy #tourist pic.twitter.com/GKSVSVHFK5 — The Average Tourist (@Average_Tourist) July 17, 2017
… You chill in an Italian courtyard with them and a fine glass of wine. Oh, and you can't forget the cheese platter. That would be simply sacrilegious.
3. Expect Your Pasta Dish To Always Be #Goals... Especially When Truffle Oil Is Involved
sgnocchi tuesday spotalunch osteriasantospirito pic.twitter.com/C9fAKbuUAR — Jerome Sinclair (@sinclair_jerome) October 25, 2016
Hot damn... now that's what I call pure beauty. I kid you not, you haven't actually lived until you try this truffle oil gnocchi. Is your mouth watering yet?
4. Your Dinner Spread Never Fails To Be Impressive AF
Can't resist! Cheesy gnocchi with truffle oil at Osteria Santo Spirito restaurant in #Florence — https://t.co/xUb8N6KEZt pic.twitter.com/2bT5k7jAec — Postcard & Tag (@PostcardandTag) September 25, 2016
Real talk: There will never be enough pasta and wine to get your optimum fill while you're abroad. My advice to you is to please the palate as much as possible by exploring as many restaurants and gelato shops as you can. You don't want to look back regretting the things you didn't eat, am I right?
5. A Weekend Sailing Along The Amalfi Coast Is Certainly A Weekend Well Spent
Sun shining over the gorgeous Positano, Italy. #TravelTuesday pic.twitter.com/0NEoeNll3F — WOW Travel (@WOWPicsOfLife) July 18, 2017
Can't you just picture your girl squad sipping on tropical drinks on the sand, and sailing along the Amalfi Coast? It's certainly an exquisite backdrop your eyes have to be #blessed with IRL. All aboard.
6. Wine O'clock Is All The Time When You Reside In The Heart And Soul Of Wine Country
Missing #ValDiCembra - #Trentino - #Italy - #Vineyards #Vino #Wine #WineBlog #Wineblogger pic.twitter.com/yCYzW0Exzo — Wine Blogger (@WineBlogRoll) July 17, 2017
Every true wino at heart will be in complete and utter bliss while touring Tuscany's vineyards. You'll obviously get the most amazing pictures for the 'Gram, while learning more about the art of wine making in the process. Savor a mouthwatering homemade meal to finish off the day on a good note.
7. You've Been Living Your Life In Black And White This Entire Time... Until You Experience Cinque Terre
Travel: Famous five - Italy's Cinque Terre https://t.co/QorxHT9Sh2 via @Independent_ie #takewalks pic.twitter.com/f8WKxi4lnj — Walks of Italy (@WalksofItaly) July 27, 2017
From the vibrant houses and exquisite gardens to the remarkable beaches, this little slice of paradise will leave a permanent mark on your heart. Cinque Terre itself means "five lands," and consists of five beautiful villages. The houses built into the cliffs are truly a sight to see.
8. You'll Lose Your Heart To The City That's Divided By Canals And Connected By Bridges
Venice is a serene, incredibly breathtaking city where visitors and locals alike travel by boat or foot. Adventure through the lagoon on a gondola tour to see the city's hidden gems. Travel to Murano, one of Venice's islands, via water bus, to experience glassblowing demonstrations.
9. Studying Abroad In Italy Wouldn't Be Complete Without Channeling Your Inner Lizzie McGuire
Rome, Italy pic.twitter.com/6DAlnYEFHo — Travel Vibes (@TravelVSCO) July 24, 2017
Who knows, maybe you'll even fall head over heels for a handsome Italian stud whose duet partner is low-key your identical twin. Expect the unexpected. "Down each avenue or via, street or strada, you can see 'em disappearing two by two, on an evening in Roma."
10. All Of Your Dreams Will Come True In The Eternal City
Visitors threw $1.5 million into Rome's Trevi Fountain last year @BIYourMoney https://t.co/Dgm4JqChyE #art #Italy #beautyfromitaly pic.twitter.com/Xk3vTVLmro — BEAUTY FROM ITALY (@BeautyfromItaly) July 15, 2017
Take part in the popular tradition of tossing a coin into the Trevi Fountain... and your dreams may come true. One well-known legend says if you take a coin in your right hand and throw it over your left shoulder, you will wander back to Rome sometime again in your life. Needless to say, if you love everything about Rome, you should certainly fill up your coin purse.