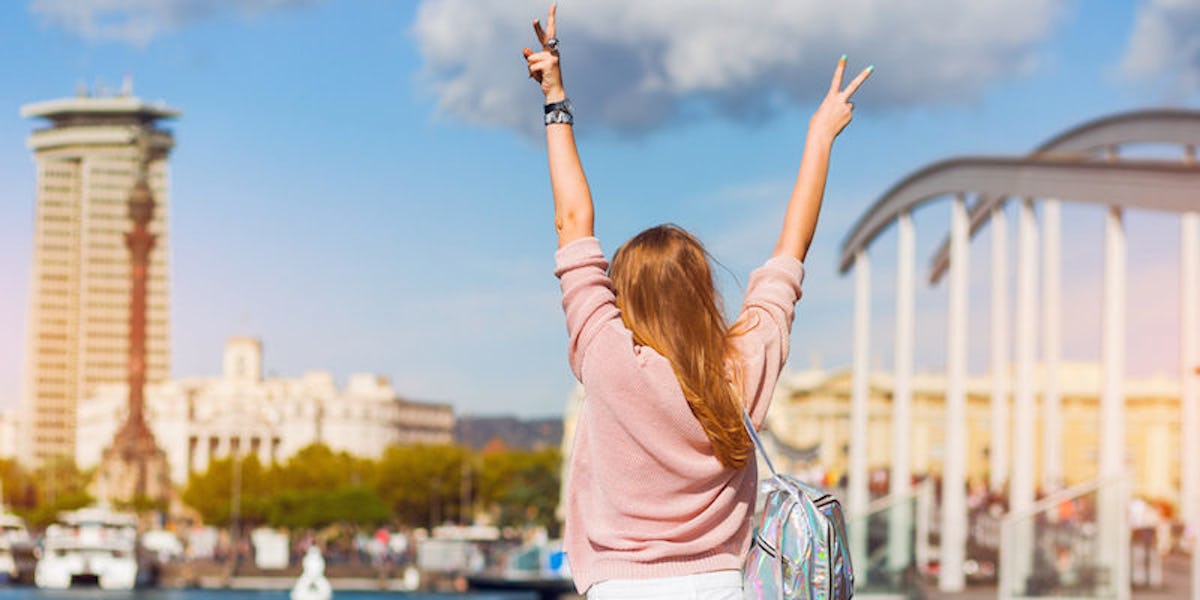 12 Reasons Barcelona Is The Most Enriching City To Study Abroad In
Shutterstock
For most students that have the privilege to study abroad, it ends up being one of the best experiences they have during their college years.
Your time abroad is spent adapting to a new culture, living in the moment, seizing new opportunities and ultimately experiencing the world one RyanAir flight at a time.
For those that spent their time abroad in Barcelona, your time will be remembered as Loco Lunes at Opium, lunches at Bo De B, skipping class to spend your day in La Barceloneta, the black-out tray at The George Payne and the essence of Gaudí's modernista architecture all over the city.
Here are our 12 reasons Barcelona is the best city to study abroad:
1. To The Sea, And To The Mountains
Barcelona is located in a valley between mountains and the sea in the Spanish region of Catalonia.
This geographical situation enables Barcelona to provide its visitors with ample activities to take part in.
You can experience breathtaking views on a hike up Mt. Tibidabo or Montserrat one day, and head to the gorgeous beach and enjoy your day on the Mediterranean the next.
2. Work To Live, And Live To Work
The Spanish know how to chill.
At all times of the day, you'll find people enjoying their time outside, sipping a café con leche and eating pan con tomate.
Not to mention, siesta is definitely a real thing, and you'll find most small businesses to be closed every late afternoon.
3. A Foodie's Heaven
Tapas, pintxos, paella and sangria: What more do you need?
Traditionally, they enjoy a light breakfast such as a chocolate croissant or pan con tomate, a fixed-price menu del dia for lunch and a larger dinner later in the evening.
From English-styled brunch spots like Brunch & Cake and Milk, to some of the best sandwiches from Bo De B and Viena, Barcelona has it all in terms of food.
Don't forget to pay yourself a visit to the La Boqueria for the best foodie experience of your life.
4. Nightlife
Barcelona is home to some of the best nightlife in the world.
Clubs don't even open until 1:30 in the morning, making every night a late night.
You know you're in the right place when they give student discounts for bottle service.
Be sure to order a Monica Lewinsky shot at Chupitos for your friend visiting for the weekend.
The Casino is conveniently placed right next to Pacha, Opium, Shoko and CDLC.
What better ending than Loco Lunes?
5. Carnivals
Barcelona has deep traditions that date back hundreds of years.
Similar to Valentine's Day, they celebrate Dia de Sant Jordi on April 23.
Instead of giving that special someone a box of chocolates, the men get their ladies roses, and the ladies get their men books.
Be sure to run with the fire at Correfoc and celebrate Mardi Gras in Sitges.
6. Superb Modern Architecture
Antoni Gaudí is one of Barcelona's key players in art culture due to his distinctive and detailed style.
Barcelona is home to most of Gaudí's famous works, such as Parc Güell, Casa Batlló, La Pedrera and Gaudí's most famous work ever, Sagrada Família.
Sagrada Família has been under construction since 1892, and it's not expected to be finished around 2030.
The church presents an excellent depiction of the relationship between man, nature and religion through its architecture and façade sculptures.
The view from its towers provide the most incredible views of the entire city of Barcelona.
7. The Deep Art Culture
Barcelona's rich art culture is apparent on every single street corner.
From galleries and exhibitions to museums, there is always something new to explore.
Definitely pay yourself a visit to the MNAC, Picasso Museum and Cascada Fountain at Parc de la Ciutadella.
You'll leave feeling enriched, educated and enthralled.
8. Travel With Ease
With Barcelona being in such a convenient location to other major European cities and home to El Prat — one of Europe's best Airports housing all of the most popular airlines — travel for the weekend could not be easier.
Want to hop over to London for some fish and chips? Easy.
Paris? No problem.
The world is at your fingertips, all thanks to Barcelona's easy access to travel.
9. The Greatest City To Temporarily Call "Home"
After a long weekend visiting friends in another city, Barcelona is a great city to come back to.
The "Sunday Scaries" and "Monday Morning Blues" just aren't a thing because every day spent in Barcelona feels like a vacation.
10. Public Transportation Can't Be Beaten
Although Barcelona is a city easily conquered by foot, the trains, busses, trams and funiculars make public transportation as easy as coffee on a Sunday morning.
Also, that countdown meter in the metro is always perfect to the T.
11. Safety Values
The most common crime in Barcelona is pickpocketing.
So now that you know, keep your phone and wallet in your front pockets, and don't be so naïve when someone asks you for directions or to sign something on a clipboard.
Besides that, crimes rates in this city are extremely low.
If your mom and dad are apprehensive about letting you study abroad because of safety issues in Europe, Barcelona is most likely the only place they'd be willing to send you to for an entire semester.
12. FC Barcelona
This team is arguably the best football team in the world.
Is there anything better than the front three lineup of Messi, Neymar and Suarez?
Nope, not even close.
Make sure you visit the historic Camp Nou, where you can immerse yourself in the best football culture the world has to offer.
Still not sold?
Check out this firsthand experience of my time in Barcelona: