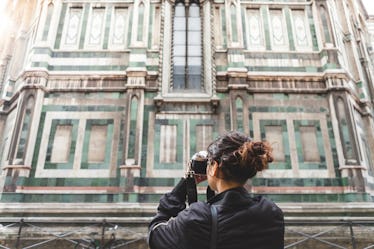 7 Unexpected Things To Pack If You're Studying Abroad In Italy
Giorgio Magini/Stocksy
So you're studying abroad in Italy, huh? You're about to have the most unreal adventure of a lifetime. You've probably already heard about all the pasta and gelato (and I promise, it absolutely lives up to all the hype.) You also know about what a nightmare packing for four months of your life can be. You bought the biggest suitcase you could find, hoping it'll be enough to fit everything from bathing suits to your favorite sweaters, and of course, still have some space for things you'll inevitably buy. But, there are things to pack for study abroad in Italy that you probably didn't think of, so we're hear to save the day.
Packing for multiple seasons is truly not easy. Of course, you're also thinking about which outfits would look best in pictures, because the amount of photo opportunities you'll have abroad is going to be endless. The key is to pack some clothes in your carry-on just in case your luggage gets a little lost or delayed on the way, and pack truly only what you're going to wear.
Heels aren't a priority, but a solid pair of sneakers and a backpack for weekend trips most definitely are. You'll be grateful you brought your big, fancy photography camera, and decided to ditch that dingy scarf at last minute to make a little room for some keepsakes. Yeah, you're packing list is pretty long, but here are seven things you won't want to miss when stuffing your suitcase.