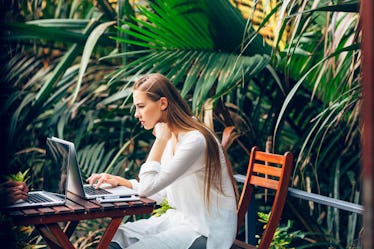 How To Make The Most Of Your Summer, If You've Landed Your First Job
The season of campfires, s'mores, and getting sun-kissed is here. You've pulled out your bikinis, and planned a few weekend trips with your besties. Wearing sundresses to work is your go-to, and you're slipping on some sandals between meetings, too. If you've landed your first job, you're likely wondering how to make the most of your summer. You're already getting sad watching the sunshine through the window, and wondering what it would be like at the beach. There's no four-month-long vacation in the real world, and you need some tips to cope.
How are you supposed to get your sunbathing on when you're sitting in the air conditioning all day? You're actually bringing sweaters and blankets to work because it's so cold, and it might as well be winter. You and your coworkers have no motivation to get those projects done, and you're taking slightly longer lunch breaks so you can soak up the sun.
You remember the days when you'd spend all of June at summer camp, and wonder if there's a time machine invented yet to take you back. This is your first job, so you want to love every bit of it. But, being inside really is the worst when the weather is warm. Finding a happy medium between the two is key to making the most of your summer and still rocking it at your first big girl job. So, I suggest you try one of these seven things ASAP.