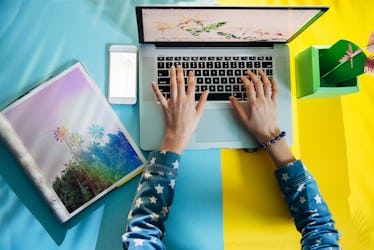 7 Ways To Make Your Office More Fun This Summer, Because The FOMO Is Already Real
Summer fun is right around the corner. If you're stuck inside during the week because of work, you might find yourself stressed AF (and not just because your schedule is full of meetings.) You don't want to miss out on the sunshine and beach days with your besties. Sure, they'll likely be working at their offices, too. You all are just wondering how to survive sitting in the overpowering air conditioning instead of soaking up some sun and going on road trips. There are ways to make your office more fun this summer so that your FOMO isn't too real. Trust me, I know the struggle is already getting to you.
On weekends, you'll have bonfires and will make s'mores with your friends. Your work wife has befriended all of the besties in your life, and will likely be in attendance, too. They bonded over the fact that it feels like winter from their spot in the office, and looking back on the good 'ole days of summer vacation in college. Can there be breaks like that in the real world?
When Monday morning comes around, you'll wish you weren't in the line at the local coffee shop buying your usual brew. You already miss the sun and surf, but these seven things will make your summer spent at the office a little sweeter. The FOMO is real, but the struggle doesn't have to be. You just have to take the necessary steps to have some fun.