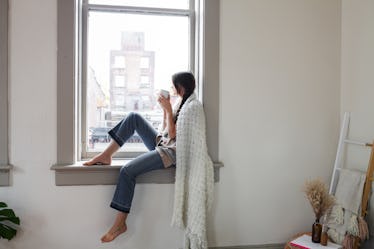 How To Deal With Your Cold AF Office This Summer, Because AC Season Is No Joke
Like they say in Game of Thrones: "Winter is coming." OK, not really. I'm truly sorry to scare you like that. The sunniest season of the year is actually right around the corner, so you should probably book that beach house for a long weekend while you can. During the week, you might be soaking up fluorescent lighting, a jam-packed schedule, and all the appetizers at happy hour. You'll be sitting inside more than you like to realize, and will likely be bundled up under blanket scarves. AC season is seriously no joke, and you need to know how to deal with a cold office so that you don't freeze alongside your coworkers this summer.
Summertime in the office is always an experience. You find every excuse possible to get outside, even if it's for the simplest of tasks. Suddenly, being the one to grab the afternoon coffee sounds like a good idea, and you'll spend your lunch break soaking up a bit of sunshine. When you were in college and had this season all to yourself, you took it for granted. Who knew the real world came with winter?
Seriously, you want to be eating popsicles, not becoming one! Your coworkers are complaining about the chilly temperatures, too, and you're contemplating just working from home until it's fall. Truth is, you have a whole summer ahead of you, and these seven tips are the only way you're going to survive the office snowflakes.