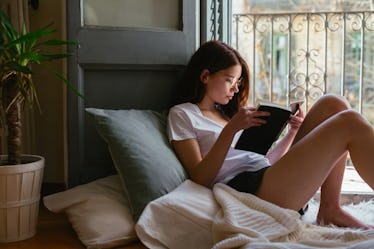 The Girl Who Always Looks Comfy Wants You To Know These 7 Things
She's the one who is constantly looking stylish in sweatpants. You're not quite sure how she does it, because if you tried to wear the same oversized sweater, it never seems to look the same. She doesn't do much to her hair in the morning, and she likes to live the chill life. Sometimes, the girl who dress comfy can be so misunderstood, even by the besties who she holds closest in her crew. So, before you come to any more conclusions, let me tell you what she really wants you to know.
She just doesn't understand why people like jeans. There are only a few fits that she'll willingly put on, but joggers are really where it's at. After all, has anyone ever had a bad relationship with a pair of pants that were comfy? Thinking about my closet, in particular — I can't say there's anything like that that I've ever regret.
This girl, if she's anything like me and my comfy self, sticks to her tried and true when it comes to style. She has a solid sense of fashion, but also knows that nowadays the most reliable looks that come off the runway are based in athleisure and the like. It's not that she doesn't care in the morning — she just put everything into perspective, and found pieces that match her low-key personality. Here are seven other things she thinks you should probably know.