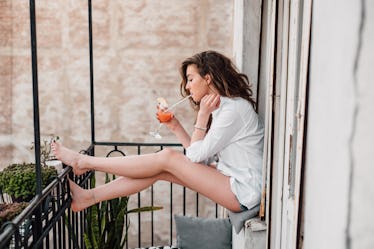 7 Easy Ways To Spring Clean Your Life If You're Lazy & Want To Get Organized
Boris Jovanovic/Stocksy
Spring fever is so real. Maybe you're waiting on the warmer weather, or just craving the days you can spend in shorts and sandals. It's pretty obvious that many of us are seriously over winter. The season when everything is blooming is often known as the time to get a little refreshed. People seem to save their most dreaded projects for the sunshine, because suddenly they're feeling so much more motivated. All of those New Year's resolutions are finally getting their time to shine, and you're ready to leave your lazy lifestyle behind. These ways to spring clean your life will go beyond just hitting the gym or getting rid of the dust, and will get you a little organized. Believe it or not, it's much easier than you think.
So, you're lazy. Welcome to the club. Especially when it's cold outside, it's so hard to get ourselves out of bed in the morning. Bundling up in blanket scarves just isn't the same as staying all cuddled up in our sheets. But, it's necessary if we want to make the most of the day. We won't ever make our passions our paychecks if we don't go out in the world and find our purpose. Quite the pep talk, huh?
Break the bad habit and start getting your life together with one of these seven easy ways to spring clean your life. You won't want to leave your messes until summer.