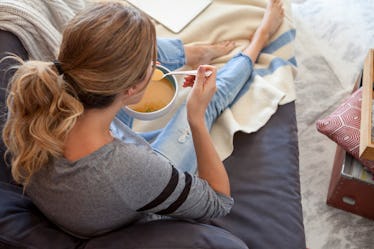 6 Lazy Meals To Make When You're Craving Comfort Food, But Can't Get Off The Couch
So, you're hungry, you've got $15 left until pay day, and you do not want to get up off of your couch to do much of anything, let alone make a meal. But something has to be done to appease those cravings for comfort food, right? It's crucial for couch bums (like myself) to have a hearty list of lazy meals to make that you can turn to when you need something good, satisfying, and so, so easy for dinnertime.
Comfort food is, well, comforting, but those good eats really are great for your soul. Studies show that eating foods that comfort us might actually help some of us to feel less lonely, and even if you're eating them alone, they can sometimes offer the same positive effects as social interaction. In fact, one study showed that people with good emotional relationships were actually more inclined to reach for comfort foods because they were reminded of their healthy attachments. You're basically eating love and memories, you know what I mean?
So, if you've got a hankering for something delicious, but you're looking to put in minimal effort to satisfy your craving, let some of these recipes inspire you for a cozy, lazy meal at home.