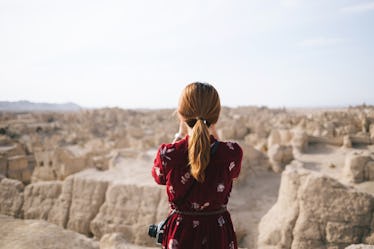 Why Ditching Your Comfort Zone Before 25 Will Be The Best Gift To Yourself
This quote by author Neale Donald Walsch couldn't be more true: "Life begins at the end of your comfort zone." And if you're about to turn 25, the best gift you can give yourself is a life full of adventure. Being 20-something is already so about the unexpected. From the second you leave college and hit the real world, nothing is quite guaranteed — and it's up to you to take life's curveballs as they come with grace. Suddenly, you're totally in charge of creating your life, right down to your surroundings — is this adulting? Stepping out of your comfort zone means you have to get comfortable with the uncomfortable, but it can also always be the best way to show yourself a little love before turning 25.
The key is to trust your gut and go where you feel most alive. There's truly no feeling like being inspired, and you'll want to find every mountaintop and get social with people you would've never dreamed of having a conversation with. Truth is, those are the moments that you'll find yourself, because when we get out of our comfort zones, we're forced to look at life through a new lens and follow our own two feet.
Sure, there can be some limits. And if you're totally content and happy with your life in your comfort zone, then you should know that's totally OK, too. But, if you're feeling a little stuck in your current situation and desperately need a change of pace — give yourself the best gift before you turn 25 for these seven reasons.