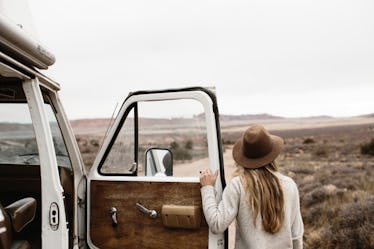 Finding Adventure In Your 20s May Be More Important Than Searching For A Soul Mate
Nicole Mason/Stocksy
Your wanderlust is calling, so what are you waiting for? Being 20-something is all about finding your passion and purpose in life. Maybe you went to college and figured it all out between the books and long nights spent in the library. Or maybe you're still looking around the world in hopes that you'll find something that'll spark your soul. Either way, it's hard not to get caught up in what everyone else wants for you, and up until this point you've probably put a lot of focus on searching for your soul mate. Truth is, finding adventure in your 20s may just be more important, because this is your life to live and you should be falling in love with every moment instead.
Personally, I love relationships. Having someone to travel the world with and be my best friend has always been part of happily ever after. But, you shouldn't be living your present in pursuit of your future. Adventure keeps your heart and mind open to every opportunity this world has to offer (which is a lot, might I add).
You've probably heard by now that traveling is something we all should do at some point, and I hope you've thought about booking that trip sooner rather than later. Truth is, a lot of people put it off until they have more money or it's a seemingly better time to take off. Please don't hit pause on adventure, because it's so much more important than searching for your soul mate — and here's why.