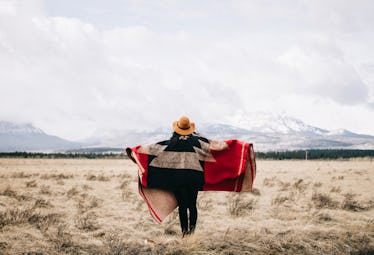 Where You Should Travel This Year If You're Single, Based On Your Zodiac Sign
Jesse Morrow/Stocksy
All my single ladies, put your hands and passports up! That's right. This year you're not settling down, and it's going to start with sending yourself somewhere around the world. Traveling is a dream for the single girl. You'll have the chance to meet new people, explore new places and cultures, and let yourself wander on your own clock. You're young, wild, and free. It's time you start living your life like it, and make the most of this time the universe gave you to find yourself. If you're not sure where to jet set to, look toward the stars for where to travel this year when single, based on your zodiac sign.
They say that in your lifetime you should take at least one trip completely solo. To some, the idea of hopping on a plane without a travel buddy sounds like a nightmare — especially if it's going to somewhere across oceans and seas where the language isn't the same. How will you make friends? What will people think when you're eating alone at a restaurant? When these thoughts come around, I hope you'll channel your inner Cameron Diaz or Kate Winslet. (*Hits play on The Holiday for the millionth time this year.*)
Truth is, traveling alone can be incredibly therapeutic. When we let our minds and feet wander freely we discover new things about ourselves. The single life can have its salty moments, but packing your bags and surrounding yourself with something new will be incredibly sweet. Based on your zodiac sign, here's where you should be taking your single self this year.