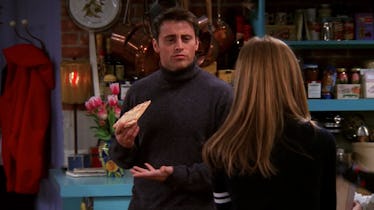 10 Spots To Eat Around The World If You Love Pizza As Much As Joey From 'Friends'
NBC/Netflix
When it comes to pizza, nobody wants to share food. Joey from the oh-so-relatable sitcom Friends might seem selfish at first, but when it comes to 'za, he's really just being realistic. We know that when the pizza craving hits, you must do something about it. So, I've curated a list of pizza places around the world for you to satisfy your cheesiest of cravings. From Rome to New York City, it's always worth the trip.
Whether you call it a "pizza," or maybe a "pie," most people can agree nothing tastes better than a good, old-fashioned slice on a Friday night. Kicking up your feet after a long week and watching your favorite reruns wouldn't be quite the same without something cheesy from your local parlor. What party? You're having a personal pizza party!
Joey has constantly stolen a pizza our hearts, reminding us that we should never hang up on our friends (like our favorite delivery person from the place down the street), and that ordering anything less than two pizzas is just "wack." People who don't believe in the power of pizza? Don't listen to them. It's just what our friend Joey calls a "moo point."
There are millions of pizza places around the world, and we'd love to try them all in our lifetimes. But for now, if you truly love the 'za as much as Joey, you'll add these 10 places to your bucket list.