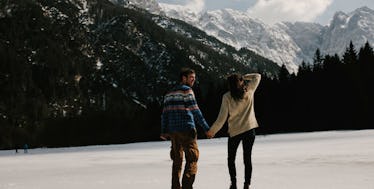 8 Obscure And Instagram-Worthy Dining Experiences From Around The World
For those with an adventurous palate and unwavering wanderlust, traveling across the world for unusual dining experiences is totally worth it.
Not many can say they've enjoyed a meal 150 feet above the ground or had a waiter deliver lunch to their personal treehouse via zip line.
After seeing these awe-inspiring restaurants, you will want to request paid time off, book a flight, and start saving up for these culinary experiences of a lifetime.
1. Treepod dining with zip-line service in Thailand.
This dining destination will bring out the free-spirited child in anyone. the Treepod dining experience at Soneva Kiri Resort brings guests on an epic journey, that takes fine dining to new heights.
Upon arrival, guests are seated in a bamboo pod and then hoisted up into the tropics of Koh Kood's ancient rainforest.
While gazing over the shoreline, listening to the waves and enjoying the gorgeous views, the guests' gourmet meal and cocktails are delivered via zip-line by their personal waiter.
Located on the Thai island of Kood, Soneva Kiri is a luxury vacation destination set amid the lush rainforests. As one of the top-rated properties in the area, Soneva Kiri offers villas with private pools, on-site dining options, fitness centers, fully equipped kitchens, a private white-sand beach and more.
2. Under the sea in the Maldives.
Located more than 16 feet under the Maldives, guests can indulge in one of the most unique and luxurious dining experiences at the Conrad Maldives Rangali Island Hotel.
Ithaa Restaurant, the worlds first all-glass undersea restaurant, offers guests the chance to watch incredible marine life swim above them, while being served a six-course contemporary dinner.
3. Surrounded by ice in Dubai.
Chill out in the first ice lounge in the Middle East. The Chillout Lounge is a magical place that features everything from ice sculptures to ice seating and tables, an illuminated interior, all at sub-zero temperatures.
The lounge serves hot soups, sandwiches, juices, hot chocolates, coffee, tea and a variety of deserts, making it the first of its kind in the world to serve hot food and beverages.
4. Cave overlooking the water in Italy.
Grotta Palazzese in Southern Italy is an enchanting restaurant set in a cave that's carved out of limestone rocks.
With a view over the Adriatic, you will feel like you're the only people on Earth. It was built centuries ago, but still remains one of the world's most unique experiences with high quality food.
Seafood lovers will drool over the menu, which is filled with delicious fresh fish such as tuna tartare, oysters, mussels and salmon.
5. Dinner in the sky, worldwide.
Buckle up for perhaps one of the most adventurous foodie experiences. Dinner in the Sky takes guests over 150 feet above ground.
The crane-suspended dinner table features elements that are sure to keep diners safe, including a canopy to shield from rain and birds, along with seat belts..
Over 45 countries worldwide have caught on to this unusual pop-up phenomenon, including the United States, Japan, Australia, and Czech Republic, to name a few.
6. Toilet-themed restaurant in Taiwan.
Looking for a crappy meal? At the Modern Toilet restaurant in Taiwan, diners sit on toilet bowls instead of chairs and eat out of bathroom appliances.
It may not sound appealing, but it remains to be a hot spot for people looking to have a fun and entertaining dining experience.
7. On top of a mountain.
Le Panoramic, on the border of France and Switzerland, sits at the top of Brévent mountain and gives diners a beautiful view of Mont-Blanc. Tourist can take in the remarkable views, breath in the fresh air and snack on delicious wine and cheese.
8. Restaurant on a rock in Tanzania.
At the fitly-named Rock Restaurant in Tanzania, the diner's fish is caught by its employees that same day, from the Indian Ocean surrounding it.
Perched on a rock in the middle of the water, this joint serves mostly seafood and offers stunning views.
The Rock is open for lunch and dinner, and menu options include fresh octopus, homemade tagliatelle served with small lobster and fish carpaccio with a creamy passionfruit sauce.