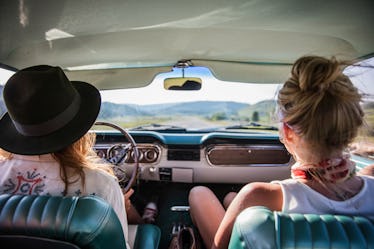 5 Best Road Trips To Take With Your Friends That Won't Leave You Broke AF
Shaun Robinson/Stocksy
We're all just balling on a budget. Being 20-something can be difficult, purely because you're feeling young, wild, and free, but also bogged down with bills. You want to have adventures, go to happy hours, and make all the memories with your besties, but the funds for fun aren't always there. Like the almost-adult you are, you start choosing cable over Chipotle, and electricity over experiences. You're alive, but are you living? Fortunately, you don't need to be a millionaire to be rich, or take a road trip. The best road trips to take with your friends won't leave you broke, and will be unbelievably beautiful alike.
From national parks to natural wonders, the world is perfect for your wandering soul and not-so-wealthy wallet. There are cities that get some sleep and are still beyond worth seeing, and beaches that will take your breath away.
When we think of traveling, we often think of dropping loads of our savings on plane tickets and places to stay. We forget that sometimes the best trips are those that keep us grounded -- the day-long getaways, slightly-upgraded staycations, and the trips on the roads that might be well-traveled.
So, stop counting your cash and start making some memories. These road trips will be worth your time and just a little bit of money, too.