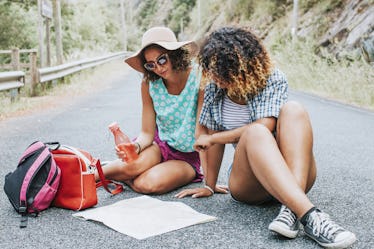 The Girls' Trip You & Your Crew Need To Take This Year, Based On Your Zodiac Sign
A girls' trip is one of the best adventures a woman and her crew can go on. No matter where you go, you know you're going to have the best time ever with a group of your favorite ladies. And since your crew is so beautifully made up of decorative personalities, we've sorted out where to go on vacation this year with your girl crew, based on your zodiac signs. Going on more than one will be so worth it.
Yes, ladies, the stars have spoken, and while we get along with our crew so well, our zodiac characteristics would all crave and benefit from certain trips differently. Now, don't get it twisted, the fun will still be had. Women in general are different, which is amazing, and if you consider the various signs as well, we all have a way of perceiving and digesting the awesome times unfolding around us. There's room to feed everyone's astrological necessities.
Any of these trips would allow you to regroup and rejuvenate. Isn't that what every vacation's goal should be? Don't get too hung up on the idea of fulfilling your zodiac. It's a part of you, and that's why you'll feel incredibly at peace or at home partaking in these girls' trips.