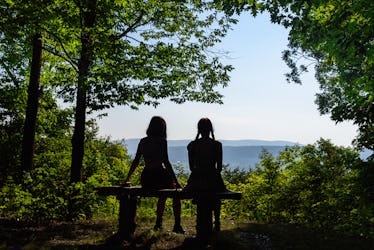 This Is Your Travel Destination For 2018, According To Your Zodiac Sign
My suggestion for a new year's resolution for everyone this year? Go on vacation at least once. Look, I'm the first person to claim I have no time or money for such things, but the more time I spend living in New York City, the more it becomes obvious to me that I need to make time to get out every now and then for a shift in perspective. If, like me, you're easily overwhelmed by travel planning, I'm here to help you figure out exactly where you should travel in 2018, all according to your zodiac sign.
Yes, that's right, the personality quirks that come along with your astrological sign might just offer some prime insight as to where you should spend all those coins you're saving up in your vacation jar. For example, a Taurus who really hates change, but loves those sateen sheets and breakfast in bed might not want to go on a hiking trip where you have to change campsites every night — see what I'm saying?
While, of course, you can take my suggestions for destinations with a grain or two of salt, do take as gospel the idea that vacations are truly not frivolous. Whether you're getting on a train for a day hike and staying overnight with a friend, or heading on a two-week, all-inclusive resort vacation, taking time to get out of dodge, so to speak, is actually really important for your mental health.
And since these suggestions are all based on zodiacs and astrology, remember that Mercury goes into retrograde three times during 2018 (March 22 through April 15, July 25 through Aug. 18, and Nov. 16 through Dec. 6), so I'd highly advise against planning your trips during any of those time periods to make sure your vacay is as soothing and fun as can be. Otherwise, read on for your ideal travel destination in 2018, according to your zodiac sign.