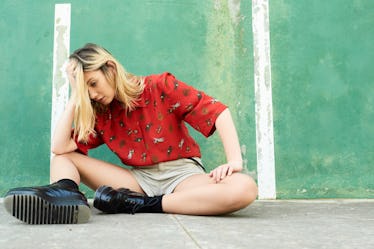 Not Knowing What You Want In Life By 25 Is Totally OK & Here's Why
Guille Faingold/Stocksy
So, you're turning 25. Hopefully you haven't gone too deep into that quarter-life crisis yet. But, if you're finding yourself feeling stuck and entirely too lost, I'm here to tell you it's OK. Adulting is hard, and I don't think anyone has a serious definition for such a term. Personally, I'm a firm believer that everything happens for a reason, and not knowing what you want in life by 25 just seems so natural. Nobody seems to really have it all together, so be happy right where you are. The future is yours to find, not figure out.
The first step is to stop comparing yourself to others. Everybody's living their own life, and you want yours to be different, too. Sure, one of your friends is finishing up grad school and the other just landed her dream job. But, maybe you want to travel the world and find a way to get paid for your wildest passions. What's wrong with that? Absolutely nothing.
You might not know exactly what your passionate about yet, or what you want in that special someone. Once again, there's absolutely nothing wrong with living your life in the pursuit of figuring it all out along the way. As long as you're putting one foot in front of the other every day, and being a good person, there's really nothing standing in your way.
There are so many reasons why you shouldn't stress about where you're at in life, but these seven say it all.