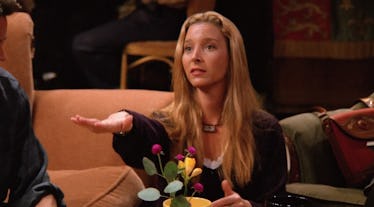 7 'Friends' Moments When Phoebe Buffay Was Literally All Of Us
NBC/Netflix
Phoebe is undeniably the quirkiest of the Friends characters. With a heart of gold, a wandering mind, and the spirit of every single animal, she's kind of an underdog in life and a show where relationships can sometimes take the spotlight. Although she might seem like the most un-relatable character, the best Phoebe moments from Friends remind us that she's literally just like us.
She's the sidekick we all wish we had -- for a good laugh, a witty comment, or to just break out into song -- but also the friend who reminds us that loving yourself is oh-so-important. Nobody has self confidence quite like her, especially Chandler. He could absolutely learn a lesson or two about embracing your inner weirdness from his one-of-a-kind gal pal.
For someone who had it tough, Phoebe always is the first to make the most out of a situation. Compliment her name? She'll use the opportunity to grab your phone number. ("Phoebe. Great name." "You like that? You should hear my phone number.") Need to go for a run? Why not pretend someone's chasing you! Sprinting has never been so satisfying.
We could all learn a lot from Pheebs, but a lot of her free-spirited energy and character is already a part of us, if only we choose to channel it. Here are seven moments from Friends when Phoebe reminded us of the best and worst or ourselves (and we love her for it).